KRYSTALINE Add PLUS (18KG)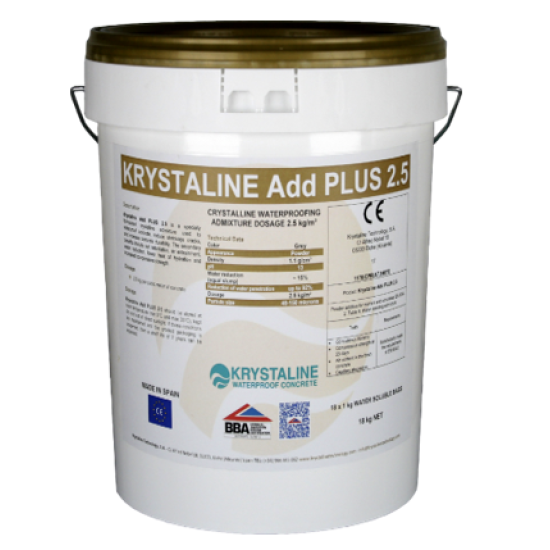 In Stock


KRYSTALINE Add PLUS (18KG)

Krystaline Technology S.A
Uses: Krystaline Add PLUS 2.5 is a concentrated hydrophilic crystalline admixture used to waterproof concrete (for cracks up to 0.5mm), reduce shrinkage cracks, and increase concrete durability. The secondary benefits include set retardation, water reduction,
lower heat of hydration and increased mechanical strength (up to 30%).Krystaline Add PLUS 2.5 is a true crystalline admixture that effectively lowers the water/cement ratio by a much
higher amount compared to normal crystalline admixtures.
Application: Can be applied in foundations, basements, retaining walls, marine structures, and swimming pools etc.. Krystaline Add PLUS 2.5 is a powder admixture that is added to concrete to 2.5 kg of product per cubic meter of concrete. Serves to reduce water by up to 15% subject to mix design. Krystaline Add PLUS 2.5 is compatible with most super-plasticizers, it is recommended to test before mixing.
Package: 18 kg (18 x 1kg water soluble bags).
Yield: 2.5 kg of Krystaline Add PLUS 2.5 per m³ of concrete.
الإستعمالات:إضافات مُصممة خصيصًا للعديد من الإستفادات و أهمها مقاومة الخرسانة للماء (للشقوق التي تصل إلى 0.5 مم) ، زيادة متانة الخرسانة ، حبس الهواء ، تقليل المياه ، انخفاض درجة حرارة الماء ، وزيادة القوة الميكانيكية (حتى 30٪)
التطبيق : يمكن استعماله في الأساسات، الجدران ، أحواض السباحة وما إلى ذلك ، يضاف إلى الخرسانة بنسبة 2.5 كغ للمتر المكعب . تقلل إضافة الكرستالين الماء بنسبة 15٪ تقريبًا مع مراعاة التصميم ، يوصى باختباره قبل الخلط
الحجم: 18 كغ
نسبة الخلط: 2.5 كغ/م3